WEB DESIGN SERVICES
Content management systems
Virtual shops and ecommerce
Presentation websites
Online catalogues
Portal systems
& any other dynamic website

MOBILE APPLICATION
IOS & Android
Visual Design
Web Service Entegration
Multilanguage
Push Notifications
Google Maps & Directions
Support & Maintenance

INTERNET MARKETING
Search engine optimisation
Search engine marketing
Internet advertising
Web analysis
Blog marketing
LATEST WORKS
Check our works and you can evaluate us how will offer you serious and professional references...
our working process in 3 steps
We provide affordable Website design, ecommerce, Web based applications, Creative designs and programming with search engine optimization and Internet marketing.

planning & strategy
When you meet your clients you are always polite and courteous and try to impress your clients to enhance your business.

design & develop
That is where we come in with our unique custom Web designs and fresh ideas.

test & deliver
Whatever ideas you have in mind, we can help you put them online.

100% CUSTOMER SATISFACTION
Any suggestions and opinions on the future of you are very precious to us ...

EASY TO USE
To make updates to your website through the dynamic and professional infrastructure is too easy...

BRANDING
Corporate identity is a website that provides the integrity, strengthen your brand image and brand awareness...

PROJECT & RISK MANAGEMENT
Advance before the start of the project team by reviewing all of the problems may arise in the future, prevent surprises you may encounter...

QUALITY WORKS
Let's make the most striking and most enduring means in the long run ads...

MULTILANGUAGE READY
You can use all of languages and extend the website's languages.

HTML5 & CSS3
Built with modern technologies like HTML5 and CSS3.

MODERNITY POLICY
A Web site should keep pace with the needs of today and the trends ...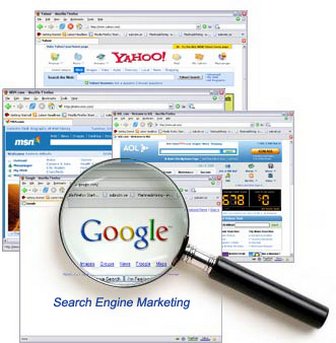 İnternet dünyasının en önemli SEO kaynaklarından birisi olan Seomoz.Org tarafından 2 yılda bir yapılan ve dünyanın önde gelen SEO uzmanlarının katılımıyla oluşturulan "Search Engine Ranking Factors" anketinin bu yıl 3.sü yayınlandı. Amerika Birleşik Devletleri, İngiltere, İzlanda, Kanada, Yeni Zelanda, Avustralya, Ukrayna ve Dominik Cumhuriyeti'nden 72 uzmanın katılımıyla gerçekleşen ankette sıralamalarda etkili olduğu düşünülen faktörler tek tek oylanmış ve bunlar oranlar ile belirtilmiş.
Seo

'ya Etki Eden Faktörler
Tekniklerin arama sonuçlarına etkilerinin oransal açılımlarına ve uzman yorumlarına buradan ulaşabilirsiniz.
Anket sonucunda oraya çıkan sonuçlara göre olumlu yönde en çok etki eden faktörler şöyle sıralanmış;
Anahtar kelime odaklı tanıma sahip harici linkler [Oranı: % 73]

Kaliteli ve aynı zamanda sizinle aynı anahtar kelimede yayın yapan sitelere siteniz üzerinden

link

verdiğiniz takdirde onun kalitesinin gölgesinden yararlanarak arama motorları tarafından artı puan kazanırsınız.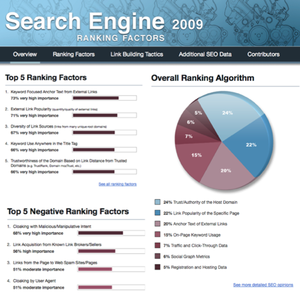 Harici Linklerin Kalitesi [Oranı: % 71]

Sitenizden dış sitelere verdiğiniz linklerdeki

kalite

bölü sayı oranı ne kadar fazla ise sitenizin kazanacağı değer de o kadar çoktur. Kalitesiz sitelere verdiğiniz linkler gereksiz yere sitenize eksi puan kazandırır.
Dış linklerdeki çeşitlilik [Oranı: % 67]

Sitenize başka sitelerden verilen linklerin farklı domainler üzerinden olması da ayrı bir etken. Blogspot ile oluşturulmuş aynı ana domaine sahip 5 siteden verilen linkler 1 puan kazandırırsa, farklı domaine (subdomainler değil) sahip 5 siteden sitenize verilen linkler 5 kazandırır.
Sitenizin Başlığında (Title) Anahtar Kelimenizin Geçmesi [Oranı: % 66]

Sitenizde title tagları arasına eklediğiniz başlığınızın (çok uzun bir başlık olmaması kaydıyla) herhangi bir yerine anahtar kelimenizi eklemelisiniz. Bu sayede sıralamalarda çok hızlı yükselebilirsiniz.
Güvenilir

domainlerden yararlı linkler (Trustrank değeri yüksek) [oranı: % 66]Trustrank gibi, 'güvenilir site puanları' yüksek ssayfalardan sağlanan linkler de

seo

için fazlasıyla önem taşımaktadır.
Site yapısında Anahtar kelime kullanım konusundaki ilk 10 oran ise şöyle;
Site Başlığında (Title) Anahtar Kelime Geçmesi [Oranı: % 66]
site başlığının en başında anahtar kelime geçmesi [oranı : % 63]
Ana domainde anahtar kelime geçmesi - Örn; anahtarkelime.com [oranı: % 60]
Sitenin herhangi bir yerinde H1 tagı içerisinde anahtar kelime kullanılması [oranı: % 49]
Site içi linklemelerde anahtar kelimelerin kullanımı [oranı: % 47]
Site dışına verilen linklerde anahtar kelimelerin kullanımı [oranı: % 46]
h1 taglarının içinde en başta anahtar kelimenin geçmesi [oranı: % 45]
HTML kodlarının ilk 50-100 kelimesi içinde anahtar kelime kullanılması [oranı: % 45]
subomainde anahtar kelime kullanımı - örn; anahtarkelime.pilli.com [oranı: % 42]
Sayfa adreslerinde anahtar kelime kullanımı - örn; pilli.com/anahtarkelime.html [oranı: % 38]
Daha fazlası için tıklayın
Seo

yu negatif yönde etkileyen faktörlerden en önemli 5 tanesi ise şöyle sıralanmış,
Sayfa içeriğinde gizlenmiş kötü niyetli yazılımlar ve virüs bulunması [oranı: % 68]
Link alımı ve satımı yapmak (Açıktan linkleri belirterek yapmak daha tehlikeli) [oranı: % 56]
Spam site vaya sayfalara siteden link verilmesi [oranı: % 51]
Linklerin ve ziyaretçi bilgilerinin gizlenmesi [oranı: % 51]
Server sorunlarından kaynaklı uzun süreli kapanmalar ve sitenin açılmaması [oranı: % 51]
Negatif etkileyen faktörlerin devamı için tıklayın
Site içi

seo

da etkili ancak anahtar kelime bazlı olmayan faktörler :
Coğrafik faktörler : http://www.seomoz.org/article/search-ranking-factors#geo-targeting-factors
Diğer faktörler : http://www.seomoz.org/article/search-ranking-factors#ranking-factors
Link inşa etmek için gerekli taktikler için sizi buraya alalım.
Ankete katılan uzmanların listesi de burada.
"
The only way you can be traced is to run

faster

then others
"
Francis Picabia