WEB DESIGN SERVICES
Content management systems
Virtual shops and ecommerce
Presentation websites
Online catalogues
Portal systems
& any other dynamic website

GRAPHIC DESIGN SERVICES
Logo design
Flyers & Brochures
Business Cards
Stationery Design
Powerpoint presentation
Print Ads / Magazine
Banners

INTERNET MARKETING
Search engine optimisation
Search engine marketing
Internet advertising
Web analysis
Blog marketing
LATEST WORKS
Check our works and you can evaluate us how will offer you serious and professional references...
our working process in 3 steps
We provide affordable Website design, ecommerce, Web based applications, Creative designs and programming with search engine optimization and Internet marketing.

planning & strategy
When you meet your clients you are always polite and courteous and try to impress your clients to enhance your business.

design & develop
That is where we come in with our unique custom Web designs and fresh ideas.

test & deliver
Whatever ideas you have in mind, we can help you put them online.

100% CUSTOMER SATISFACTION
Any suggestions and opinions on the future of you are very precious to us ...

EASY TO USE
To make updates to your website through the dynamic and professional infrastructure is too easy...

BRANDING
Corporate identity is a website that provides the integrity, strengthen your brand image and brand awareness...

PROJECT & RISK MANAGEMENT
Advance before the start of the project team by reviewing all of the problems may arise in the future, prevent surprises you may encounter...

QUALITY WORKS
Let's make the most striking and most enduring means in the long run ads...

MULTILANGUAGE READY
You can use all of languages and extend the website's languages.

HTML5 & CSS3
Built with modern technologies like HTML5 and CSS3.

MODERNITY POLICY
A Web site should keep pace with the needs of today and the trends ...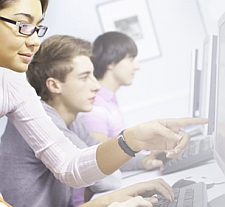 Webinar adı verilen web seminerleri popüler olmaya başladığından bu yana online eğitim programları hatırı sayılır bir büyüme gösterdi. Türkiye'de dahi üniversitelerin uzaktan eğitim hatta yüksek lisansları programları açtığına şahit olduk. Bunlar büyük gelişmeler olarak görülebilir ama online eğitimin geleceği geleneksel eğitim sistemini değiştirecek gibi duruyor.
Bu son kanıyı belki tekrar etmiş oluyoruz ama Amerika'nın en iyi üniversitelerinden Stanford'un bir kaç profesörü görmemiz gerekeni daha net ortaya koyamızı sağlıyor.
Stanford Üniversitesi'nde bilgisayar bilimleri profesörü olan Andrew Ng ve Daphne Koller'ın açmış olduğu Coursera online eğitim anlamında yeni örneklerden biri. Anlaştığı üniversitelerin online sınıflar oluşturmasını sağlıyor.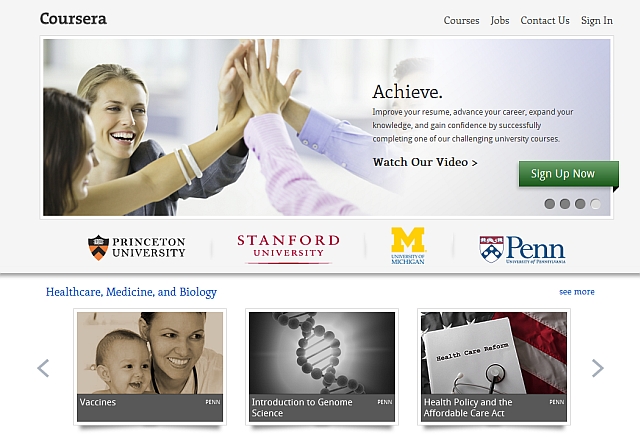 Şimdilik bir kar amacı gütmeyen Coursera, Kleiner Perkins ve NEA'dan aldığı 16 milyon dolarlık yatırımla yoluna devam ediyor. Bu noktada aklımıza ABD'li genç girişimcilerin kurmuş olduğu ve 5 milyon dolar yatırım almayı başaran CourseKit geliyor.
Coursera, Princeton, Stanford, Michigan Üniversitesi ve Pennsylvania Üniversiteleri ile bir dizi online sınıf açma planını önümüzdeki pazartesi gerçekleştirmeye hazırlanıyor.
Online kurslara kaydedeğer katılım
AllThingsDigital'ın verdiği rakamlara göre Andrew Ng'nin 104 bin kişiye ulaşan ve 46 bin kişinin en az bir ev ödevi tamamladığı bir kursu dahi olmuş. Bu kursta 23 bin kişi derslerin önemli bir bölümünü alırken, başarı belgesi alanların sayısı 13 bin olmuş. NG, yüzde 10′un üzerinde net başarı yakalayan bu kursus önümüzdeki hafta tekrarlayacak.
Coursera'nın kıyaslandığı diğer bir eski Stanford profesörünün girişimi ise Udacity. 2011′de Fast Company 100 listesinin 5. sırasında yer alan ve Google'ın akıllı araçlarına hayat veren Sebastian Thrun'un kurucusu olduğu girişim online eğitim konusuna eğiliyor ama Coursera gibi üniversitelerin kendi sınıflarını oluşturmasına izin vermiyor.
Koller ve Ng işin online etkileşim ve pedagojik tarafına da eğilerek online eğitim, daha doğrusu online üniversite konusunda ilerlemek istediklerini gösteriyor. Coursera'da öğrenci forumlarında bir sorunun cevaplama süresinin 22 dakika olduğu paylaşılıyor. Öğrencilerin verdiği cevapları online olarak analiz edebilme şansı Stanford profesörlerinin ufkunu daha da açıyor.
Yukarıdaki rakamlar belli açılardan tatmin edici gelmeyebilir ama şimdilik sınıfların bilgisayar bilimlerinin zor dersleri üzerine kurulduğunu belirtmekte fayda var.
Gelecekte online üniversiteler konusunda daha çok konuşacağız ama şu an online eğitim konusunda Khanacademy.org, Minervaproject.com, Codeacademy ve Eren Bali'nin kurucularından olduğu, Billgates'in de bahsettiği girişim Udemy'nin adını anmakta fayda var.
Farklı yerlerde tekrarlamış olabilirim ama önümüzdeki 40-50 yıl içinde teknoloji kullanımının üst düzey olduğu yerlerde geleneksel eğitim kurumlarının ortadan kalkacağı konuşuluyor. Yani çocuklarımız olmasa da torunlarımızın online üniversite diploması alacağını şimdiden düşünebiliriz…
"
The only way you can be traced is to run

faster

then others
"
Francis Picabia